Living and Dining Room By Mezzo Collection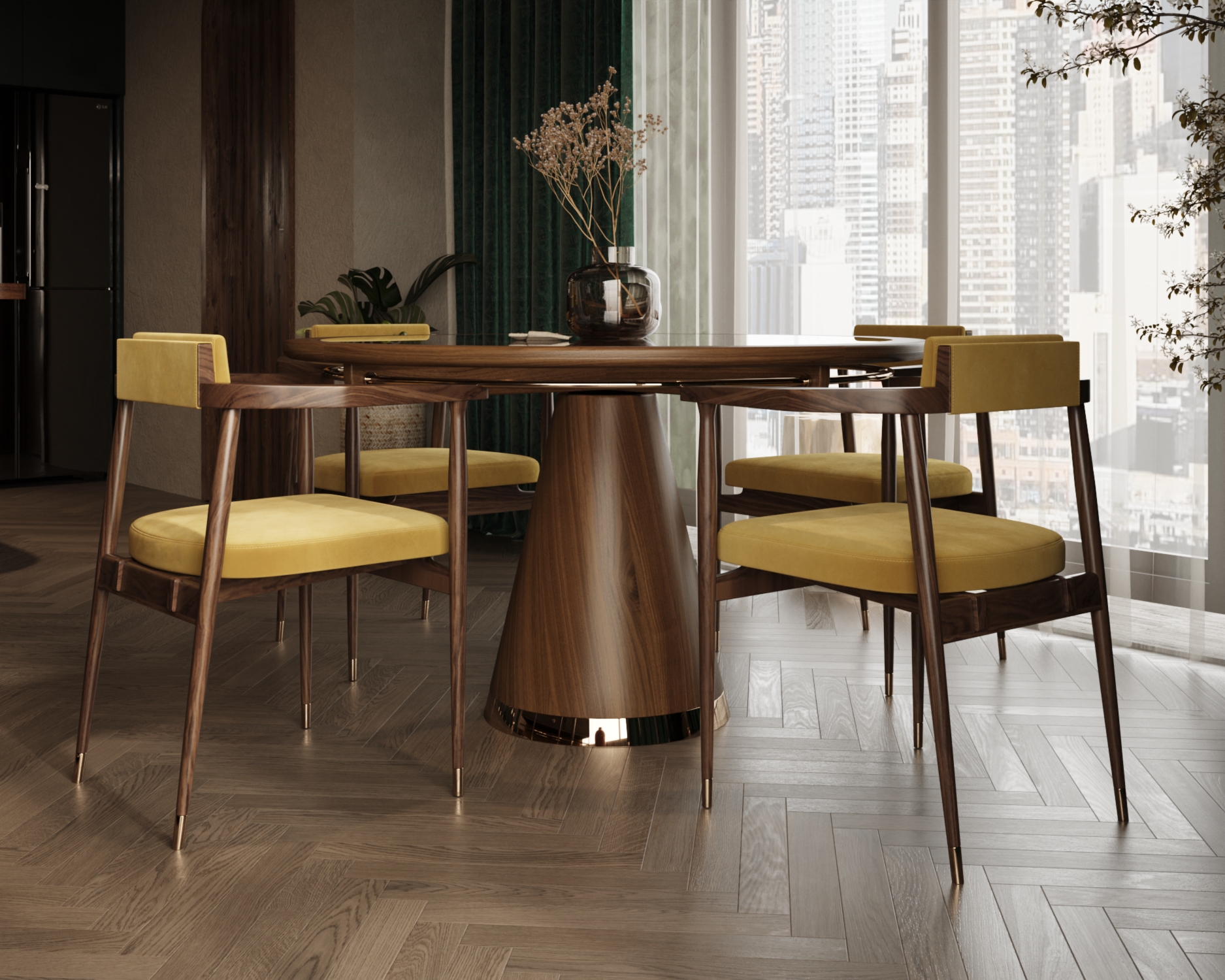 This is a residential project by the Mezzo Collection in New York. In this project it was an open space concept between the Living Room and Dining Room was requested. The Mezzo Collection accepted the challenge and made this incredible project, always preserving the harmony between the pieces, the colors and fabrics between the two environments.
Thus, in the Living Room space, we can find the Rollins Sofa, perfect for complement a sophisticated mid-century design. The pattern design on the arms and back, combined with the brass base, made this sofa an elegant choice to be the center of the spotlight in any living room.
In the living room we also find the Jarman Dining Chair, used to support the sofa, Joseph Jarman, a famous jazz musician, was the inspiration for this stunning dining chair. Made with the finest and most elegant materials, the Jarman dining chair will be the center of attention to any project.
To finish off this space we have the Avery Center Table, a simple and elegant coffee table. Its striking brass details combine striking subtlety with the marble accents on the table top. Ideal for any mid modern space century, the Avery coffee table will add a touch of luxury to any decor.
Moving on to the dining room, we have the Holiday Dining Table as the centerpiece, the design by Holiday takes advantage of the current trend in interiors – rattan – to create the main dining table feature. The natural fiber positioned in the center of the piece, which is protected by a robust circular glass, contrasting with noble materials, creates an elegant and sophisticated providing a cozy feeling.
Then we have the Gardner Dining Chair, inspired by one of the movie stars, the Gardner dining was thought to be the elegant touch in most contemporary designs. Made of solid walnut wood, the polished brass details add a touch of luxury that enhances your beauty.
To have a light source in this space, they chose the Adams Ceiling Lamp for that purpose, the shape Adams' lamp is fascinating. The appeal of the piece is in the brass frame under as the lamp circles, which gives it an unusual but seductive shape. despite the its unique silhouette, the Adams ceiling lamp is the perfect choice for creating a beautiful design that balances simplicity and boldness.
Completing this project is the Ellis Bar Chair, designed to be the highlight of any Pub. This luxury piece has a mid-century design with a contemporary twist. Using a rich combination of fabrics, Ellis features a round shape on the back, exquisitely finished with a lacquered lacquered footrest and leg frame black, this piece was chosen for the kitchen area also present in the open space.
The project was a success and customers loved the end result.