Luís Fialho – Diretor Geral da ColchaoNet
Luís Fialho – Diretor Geral da ColchaoNet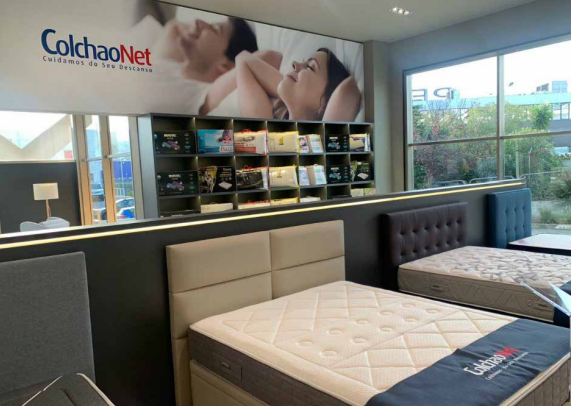 ColchãoNet is the largest network of shops specialised in the art of resting in Portugal. It is a company committed to the best and latest technology regarding mattresses. Luís Fialho, General Manager of ColchaoNet, in interview with MN – Mobiliário em Notícia, tells us about the challenges and values of the company and why this bet on the resting systems.
Which keywords describe ColchaoNet? Why?
Rest, specialist and quality. Rest, because clearly it is our priority and our focus for our customers, as we refer in our signature "We take care of your rest". Specialist, because we are committed to presenting a service of excellence, with personalised service through an expert team in our business area. Quality, because we offer the best selection of articles that allow to ensure an ideal rest, and that adapt to the needs, preferences and comfort of our customers.
What distinguishes ColchaoNet from other companies in the area?
It is the largest network of shops specialising in the rest in the country, which has a wide range of mattresses, pillows, beds and other rest complements, for all customers. A company committed to the best and latest technology at the level of mattresses, always in conjunction with its suppliers in the research for new materials and new solutions that allow the best rest. And of course, our commercial teams, which have all the training and knowledge, and allow the customer to have a professional and personalised service, so that it is possible to find the best solution according to their needs.
What are the main values that drives the company?
In our activity we must have values that guarantee our customers' total satisfaction. Confidence: ColchaoNet a real rest specialist, gives your customers complete confidence when they seek us so that we present them the best product for optimum rest, according to their needs and preferences. Excellence: With our professional and personalised service, we want to ensure not only an excellence of quality and efficiency, but also credibility. A service always oriented towards the customer, with the best guidance. Innovation: always searching for the best technologies, and the best products that allow us to improve the rest of our customers.
Values that guide our actions and the way we behave every day, a reflexion of what we believe in and what we desire for our customers.
These are, for us, factors for an internal cohesion of our teams, but we also believe and desire that they act as differentiators, for a company and insignia that wants to be responsible for the ideal rest of the Portuguese people.
What are the biggest challenges you face daily?
Clearly our biggest challenges are related to the lack of culture of rest, which still exists in Portugal. We all desire and like to have a good rest, but most of the population is not yet prepared to give the proper importance to a piece that is fundamental in its life, the Mattress. It is affirmed, and it is a truth, that one third of our life is spent in bed, but then there is no concern in having a proper mattress that fits our needs. And so, we at ColchaoNet, defend that buying a mattress cannot be a common act, a simple act, it must be a judicious decision, and it is important to benefit from the technical knowledge of those who truly know the product, to seek a real expert.
What does the company commercialise, besides, of course, mattresses?
We affirm in our signature that "we take care of your rest", and this statement is reflected in what we have available to our customers, a wide range of products, which goes, in fact, from the mattresses, to pillows, not forgetting about the bed frame, the base, the headboard and other rest complements. More and more, we are sought by our customers for the purchase of the complete set for the room, and regarding that matter, we have in fact an offer that can even be customised to the
customer's preference. Regarding the type of product, for example if you want a simple base, or even a folding base with possibility for storage, if you want a headboard and custom base with a specific finish/fabric type. And then paying, in fact, the given importance to the main part in this environment, the mattress.
Our concern, is clearly, to bet on a diversified range that can correspond to the market in which we are inserted, and the expectations of our customers.
Why this bet on rest systems?
As I mentioned a minute back, we all know that we spend a third of our life in bed, where we must have a quality rest. Do you wonder why you wake up with a back pain? Do you wonder why you couldn't sleep well, or why you stayed up all night? There are always a few reasons that can lead to that, but clearly one of them, or one that can contribute for that not to happen, is to sleep on a good mattress. A good mattress, adaptable to each one's needs, is important and can guarantee this ideal rest. This is why we bet on the best products, seek the best technology, seek the best materials for our mattresses. A job we do in conjunction with the best in the mattress industry.
What are the precautions to take when choosing a mattress?
Currently there is a wide variety of mattresses available on the market, both at technologies level and materials used in coatings. And the mattresses differ mainly from what is in its structure, and in the materials combined to control comfort and its firmness. The choice of mattress should be better suited to the needs of each, taking into account the taste of the level of comfort and firmness, its structure (weight/height), the habits for example regarding sleeping position, health problems that affect the spine or sleep disturbances associated with the sleeping position, and even the level of allergic issues. And because there are all these factors to consider, precaution must be taken into account when buying a mattress, we advocate that it should be done with the help of a real expert. At ColchãoNet.
This is a brand that has been acquiring a lot of recognition and success. How many stores do you have throughout country?
Currently we have a structure of 25 stores available in Lisbon, Porto, Braga and Setúbal.
This company is 100% Portuguese. Do they focus only on the national market, or do they already have in sight the international market?
Yes, it is a 100% Portuguese company, and we are currently focused on our expansion inside Portugal. We want to have a greater national coverage, present in districts where we are not yet, and for that to happen we have a plan to open 15 new stores in Portugal in the next 3 years. At international level what we can say today is that we are attentive, and certainly growth will also go through this way.
Employees are always an essential part of companies. How do you see your team?
We consider them our largest asset, the main pillar of our company. A team that we value, which we form, which we prepare so that it is possible to fulfil our mission, our goal, our commitment to our customers. That allows us a service of Excellence, professional, personal-ised, with quality and efficient. It is by our team that we can differentiate ourselves, it is by their experience that we can meet the expectations of our customers, presenting them with the best solution for their rest, and that adapts to their every needs and preferences.
Why choose the ColchaoNet stores?
For everything I've been saying until now. Buying a mattress, it is a decision that needs without any doubt to be a careful and well thought purchase. Because when we decide to buy a mattress, we want to be able to choose the best, the one that suits our true needs, which allows us the ideal rest, and in this case, we should look for the best expert. At ColchaoNet we have what you are looking for, we have a personalised service, we know what is best for you considering the characteristics of each customer. Credibility of 15 years in the market, trust of a true expert. This is ColchaoNet.
To wrap this up, what's the next step for the company? Any future projects?
Continue with our expansion plan. A restructuring on our Online, our website, so that it can correspond to our customers, and so that you can have a bigger and better offer.