GlammFire Exclusive Fireplaces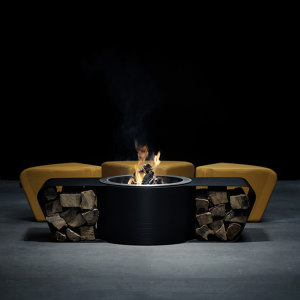 We had a conversation with Marcelo Inácio, CEO and President of the Portuguese luxury brand, a pioneer in the manufacture of bioethanol fireplaces, which excels in the design and quality of its materials.
It's been 13 years of…?
If I had to choose a word, I would say innovation. The 13th anniversary of GlammFire celebrates more than a decade of dedication, daily, of a team of specialized people who are passionate about what they do. Along the way, there were also numerous battles where the brand showed its resilience, always managing to overcome these challenges.
With a solid path, what position does Glammfire assume today in the domestic market?
GlammFire assumes itself as a pioneer brand in fireplaces for the luxury segment. In the last 13 years we have always had an innovative attitude towards the market, not only in terms of technology but also in terms of the design of our pieces. During these 13 years we had the opportunity to work with some of the best Portuguese architects and interior designers. We also had the opportunity to be present in numerous projects by hotel groups such as The Yeatman and projects of great national impact such as the World of Wine at the Vila Nova de Gaia pier.
A pioneer in the manufacture of bioethanol fireplaces, Glammfire is today an iconic Portuguese luxury brand. What other goals do you want to achieve with your exclusive products?
Our main objective is to continue to work on research so that we can create bioethanol fireplaces that are increasingly efficient, ecological and that continue to arouse consumer interest, whether for their simplicity of use or for their design, which is one of the great pillars brand and that makes it stand out in the national and international market.
Simplicity, elegance, technology and innovation. What other features are associated with Glammfire products?
The feature that consumers most associate with GlammFire is, without a doubt, the design. However, the quality of the materials used together with the fact that all our products are handmade, with 100% Portuguese production, makes our products unique. And what does the Glammfire brand represent? GlammFire represents the future of fireplaces associated with the best of Portuguese design. For us fireplaces are the heart of the house. We seek to create the best product, where the customer can fully experience the feeling of comfort and coziness that traditional fireplaces remind us so much.