W Hotels – Osaka (Ed. 145)
Extravagant simplicity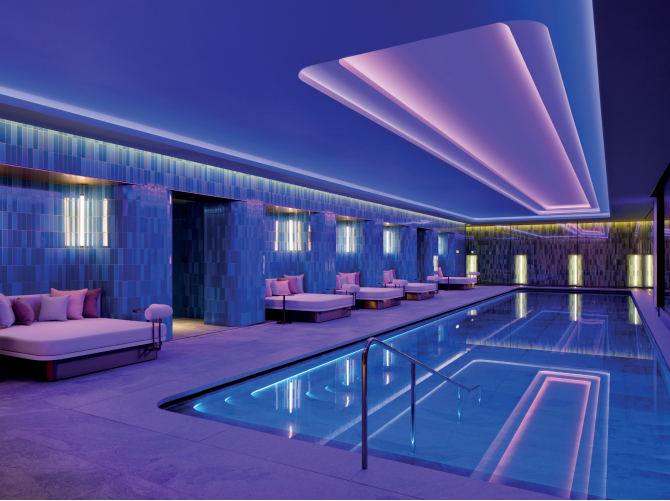 Every W hotel is designed for its specific location – with foreign designers invited to offer the fresh perspectives of an outsider. For W's first hotel in Japan, Sekisui House and Marriott International called on the Amsterdam's Concrete Architectural Associates – challenging designers from one of Europe's most famous harbor cities to discover inspiration in an ancient harbor city on the other side of the world.
The sprawling metropolis of Osaka was once the imperial capital of Japan and the country's economic hub. At its heart, the wide Yodo River flows into a harbor bustling with trade. Throughout its history, visitors contributed their cultures and technologies to the city – creating a prosperous port with an extroverted, lively and somewhat rebellious culture. All of this energy attracts international businesses and visitors. Concrete's team of Dutch designers explored Osaka's past, present and future, its urban and natural landscapes, and its fascinating culture. Visually, they discovered that Osaka is water and nature – but also neon and bright colors. They were struck by the contrast between the aesthetic of Japanese minimalism and the extravagance of an urban world saturated with colors. Especially in downtown Osaka and Dotonbori – Osaka's nightlife district – the display of flashing neon is breathtakingly vivid and joyful. Then there's the simple beauty of nature. The pink of the much-loved cherry blossoms and the golden yellow of the ginkgo trees in autumn – which line
Midosuji Boulevard, where W Osaka is located. The goal was to share the spirit of the city with the guests of W Osaka. And let the interior of the hotel tell a story that is truly Osaka. Celebrating the opposing – yet complementary – forces of extravagance and simplicity.