From Aldeco to the world
Aldeco, Interior Fabrics is a company from Portugal that creates fabrics for the world, inspired by heritage and cultures.
Its collections are exclusively developed by its Design Department, with passion, innovation, and always in tune with the latest fashion and design trends. Susana Dias, creative director at Aldeco, tells us more about this dynamic and creative brand.
Susana Dias is the creative director of Aldeco, a brand that creates fabrics for the world, inspired by the world heritage and its cultures. Is this a world that has always fascinated you?
I am very grateful because I was very lucky to be able to create what I dreamed of since very early … no doubt that we should always believe and follow the paths that lead us to achieve our goals. I was a child and I already loved being with my Father when he received the fabric samples! I loved feeling the touch of fabrics, textures, watching the designs and colours! And I listened very carefully to my Father's explanations. I grew up, always studying arts with specialization in the textile area, until I decided that I was ready to start my professional career with my Father, who always supported me and also believed in me a lot… My Father, who is my Mentor, always gave me wings to fly and we managed together to create the Aldeco Interior Fabrics brand. We were the first Portuguese decorative fabrics editor, which was a victory for us when, in 2006, we managed to enter the approved and recognized Textile Editors, back then brands, to participate in certain important events, had to prove their specialization both in creativity and design.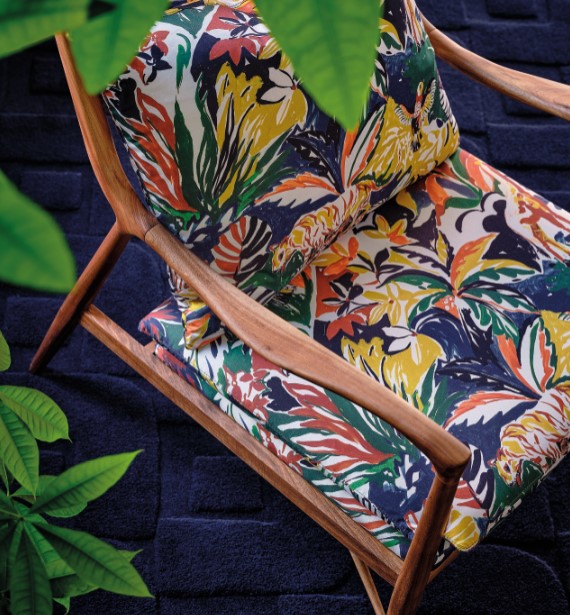 What inspires and motivates you daily?
I am a person especially attentive to everything surrounding me! I recognize it is an advantage having a very accurate photographic memory and a strong sensitivity to details, that makes me a great collector of daily inspirations!
I write down daily what most captivated me and aroused special interest and fascinated me! It could be a journey, a conversation, or even in my normal life when something, at some point, marked me differently. Attitude and genuineness also inspire me a lot. I love fashion and I also like to follow and enjoy trends.
What motivates me is the challenge of creation! Creating concepts and telling stories through fabrics! The pleasure of creation motivates me! The involvement of texture and colour in fabrics immensely motivates me! It motivates me to see the result of the collections! It motivates me the adrenaline that I feel when creating! I am motivated by people's reaction to our creations! Feeling that "click" that awakens us! Having a creative spirit was born with me and is indeed very motivating! 
Tell us a little about your daily life at the company. What challenges do you have to deal with?
My daily life is always very active because, in addition to being one of the company's administrators, I am responsible for the Portuguese market and the Aldeco's creative director. I always have a very busy schedule, starting with a morning briefing, with my design and communication team where I analyse the development of the work in progress. Commercial follow-up meetings, meetings with suppliers and administrative meetings also follow. Daily briefings help me a lot to organize my daily schedule. Regardless of the time of year, I have a busy schedule and without a doubt, success is having a lot of focus and enough organization to be able to meet our daily and general goals. In the creative department more specifically, we always finish the day with a state point at the end. It is an area with many stages depending on the time of year, like the "mood board" development, the selection of Pantone® colours for the collection in development, developing and closing designs, developing and choosing the type of fabric technically for a specific design in progress, defining "rapport", closing collection, receiving collection samples, developing fabric catalogues, preparing the photoshoot, image selection, catalogue printing, setting the collection's "mood book", forming the collection, launching the collection, media, social networks, etc.
What does Aldeco represent to you?
Aldeco is part of my Life! I work with love, a lot of allure and a lot of dedication. I am very proud of the company, the brand and all of our current employees.
Today Aldeco is a renowned brand that creates fabrics. Is Aldeco today…?
In the world of decorative fabric editors and in the Decoration segment, we are aware that we are a worldwide recognized brand. Continuing to develop original fabrics that transmit good vibes and that are easily recognized will always be our main goal!
What news or projects do you have on the table for the near future that you can share with us?
We are specialists in decorative fabrics and we intend to bet more and more on launching intelligent fabrics, efficient fabrics in face of the active needs of the market, obviously obeying the global standards of each country. Also, in the near future, we intend to launch our own wallpaper collection with Aldeco's original designs.
Alongside the creation of high-quality fabrics, will Aldeco's strategy continue to involve creating partnerships of excellence and representing renowned international brands in Portugal?
Yes, no doubt! We have 3 showrooms in Portugal and a sales team composed of 12 salespeople. This presence allows us to be closer and closer to our customers and obviously to quickly respond to all markets needs, with our brand's fabrics and the international brands that we distribute both fabrics and wallpapers. This combination is very important and necessary for our company and to diversify the offer provided to our customers.