A hideaway in nature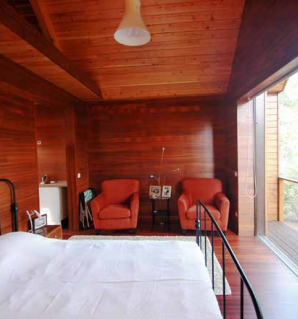 Are you tired of the accelerated rhythm of the city? Get delighted with this weekend hideaway that is in perfect symbiosis with the surrounding forest.
Get inspired by this dream house built by Atelier Norma – Nova Arquitectura em Madeira following a couple's desire of having a weekend-house which would suit the limited mobility of one of the spouses. The project consisted in creating an extension of a house of the 70's in Cabeça Santa, Penafiel, interconnected by a wheelchair-accessible walkway made of wood. The extension comprises a dormitory, a bathroom adapted for diminished mobility, and a kitchenette. The house, assembled in just 45 days according to a modular system, is predominantly made of wood, which reinforces the soothing presence of nature.
Jorge Lira
Wood conveys a sensation of…Wood ALWAYS conveys a comforting sensation, for it is a surface of a cellular material, which is never cold therefore. Its acoustic is unique for the same reasons. Moreover, the level of humidity within a wooden house is always reduced, because wood "breathes" and never gets infected with fungi or mold, contrary to plasters.
The best thing about working with wood is… The best thing about working with wood is to be able to use the best recyclable material of the planet: wood is a woody material produced by nature through the fixation of CO2 from the atmosphere, thus wood is the most ecological and recyclable material of all. And because using wood for construction work requires quality forests, it implies promoting the increase of high quality forest areas, following a philosophy of sustainable building, within the existing certifications and only
using renewable forests, refusing exotic species. Which, anyway, aren't suitable to construction work in our climate.
The greatest difficulty in working with wood is… There's no difficulty whatsoever in working with wood: it's too bad that Portugal has opted for the eucalypt forest disaster, which devalues our territory every year, on the pretext of a misleading paper industry (which produces little wealth if compared with the one generated by quality forests and for construction work). Portugal should invest in the wood building industry as other countries did from 30 years ago until today, as for example France.