An artistic cottage, by sa&v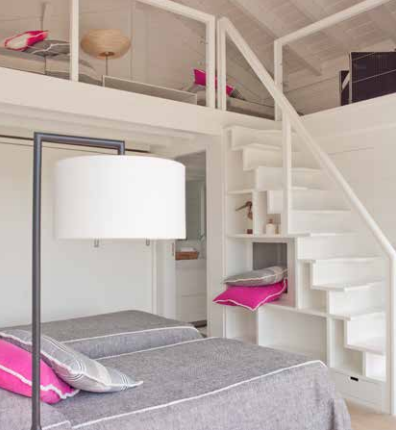 Situated in the Comporta zone, this holiday home is the haven to where its owners like to "run away" every time they need to take a break from their busy lives. The clients requested SA&V to design an extremely comfortable ambiance, with a special focus on the pieces of art they like to surround themselves with. Regarding "mood", a relaxed atmosphere was created, with comfort and refined details which would allow it to be used throughout the year and not just in summer. The perfect hideaway for out-of-season weekends as well.
The bright tones, the vibrant colors, the very comfortable nooks where nothing is missing for relaxing, make this house a place where one feels like being. The entire house is facing the exterior, with an experience very focused on nature, on the proximity to the sea, on the evening light so characteristic of this Comporta zone. Walking along the swimming pool area, one gets to the small house where the family's friends stay when they come here to spend some days of rest.
Concerning materials, our choices comprised woods, straws, leathers, linens, cottons, voiles and, of course, the ever present works of art. The big lamp is a highlight, suspended over the dining table, resembling fishing nets due to the proximity to the sea. The straws and the linens convey a relaxing sensation to the ambiance and the linens and the voiles provide the necessary transparency so that the connection to the exterior isn't lost. The leathers were used to contrast with the weightlessness of the linens. The works of art, mixed with this relaxed environment, convey sophistication to every part of this project: the brand image of this "Cottage".