Amy Alper
Amy Alper
"Siza and Souto de Moura are exemplary and always a source of influence. Their highly edited and elemental work is a reminder that a clear idea, perfectly and simply executed is richer than work that is overdone."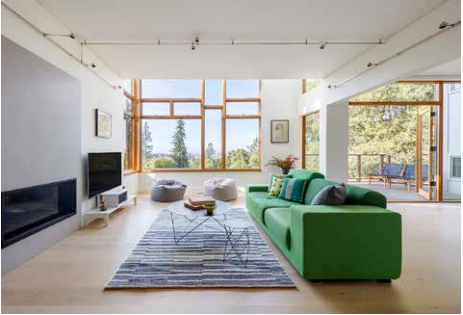 Amy A. Alper was established as an Architech in 2005. Working with the timeless elements of architecture: space, light, texture, rhythm, proportion and clarity of detail, Amy crafts projects to suit the opportunities and constraints of each site in harmony with the very specific needs and desires of her clients.
How did your career start as an architect?
My first job after graduate architecture school (at UCLA) was with Richard Meier and Partners, working on the design of Getty Center.
I was the first woman in the Los Angeles office to be hired as a professional. Fortunately, several more professional women followed soon after.
The firm's approach to design, such as the use of clear organizing principals, studied relationships between plan and section, designing with light in cross section and artfully managed transition of materials, remain fully integrated into my design process. It's simply instinct at this point.
How was Amy A. Alper, Architect born?
After leaving Los Angeles for Sonoma County, I worked for a number of firms. I am especially proud of the Carneros Inn, just west of the city of Napa.
My position was as the lead Project Architect for a multi-firm team. The project was a 2007 National AIA Award-winner.
Not long afterwards, I decided to establish my own firm. I wanted to ensure a direct and highly interactive relationship with my clients to best represent their interests, as well as to a personal design approach.
What is your greatest source of inspiration?
The expansive natural landscape of hills, vineyards and woodland views in Sonoma County are a constant source of inspiration. In response, my initial site design looks to serve the drama of approach and procession – leading to those views. A strong indoor-outdoor connection, completed by a focal point influences the design more than the creation of a precious object.
What is the biggest challenge you face as an architect in current times?
The current cost of construction in Northern California is quite high, especially after the disastrous wildfires of October 2017 and the biggest challenge I face.
Demand is putting pressure on material cost and the bids given by the general and their subcontractors. Clients will often ask for a home of a square footage that can't be achieved with the budget they are hoping to meet. This is also true with projects of seemingly generous budgets.
I suggest the goal should be to design spaces that meet needs without a preconceived building size in mind. The result is often a more efficient building floorplan than the client anticipated.
Trends are everywhere, even in architecture. In your opinion, which are the trends to expect, in the year of 2020?
I practice in an area of moderate climate, not so different from Portugal. Applicable trends that I expect will continue for some time include: environmentally aware sustainable design – especially in the area of energy, flexible open living spaces with a strong connection to the outdoors – typically with large windows and pocketing exterior doors.
Specific to California, the use of fire resistant materials and careful site planning employing the concept of "defensible space" vis-à-vis natural threats of wildfire and flooding. I expect an interest in a rural rustic vernacular architectural vocabulary to popular among my Sonoma clients, along with a trend toward modern projects.
Still in the same context as the question above, what is timeless, in the area of architecture?
As ever: space, light, texture, rhythm, proportion and expressive detail. I strive to craft each project to be responsive to the unique desires of each client and the unique opportunities presented by each property. Also timeless is true service provided to clients by the stewardship of resources, both budgetary and environmental, as well as excellence in professional practice.
Is there any complementarity in being an architect and an interior design at the same time?
I design to achieve a truly integrated architecture, so that the architecture and interior architecture work together and enhance the whole in terms of proportion and modulated flow of space. The design remains fluid until both are fully explored. While I set the concepts for each space, I enjoy collaboration with an interior designer as part of the team to add another point of view and pull together the furniture, fabrics and decorative lighting.
Are you familiar with the Portuguese market? What do you think about it? If yes, what are the biggest differences?
I see the Portugese market as similar to my view of the European market in general, where there is a view to the longer term to achieve quality construction, as opposed to the US market where initial costs are often the driver of decisions.
There are some Portuguese architect you like?
Of course, Siza and Souto de Moura are exemplary and always a source of influence. Their highly edited and elemental work is a reminder that a clear idea, perfectly and simply executed is richer than work that is overdone. That said, in my own practice, my clients look for more variety in materials and texture which also provides an expressive way to differentiate the hierarchy of residential spaces.
What type of projects do you work with more often? Residential or hotels? What do you like the most?
I focus on residential architecture and yet the influence of the wine country hospitality market is evident with requests from clients for the master bathroom to be "spa-like" and the master sleeping area to have the feel of a "retreat". It was after my work on the Carneros Inn – a residentially scaled boutique hotel – that
I realized my preference for design of residential living spaces.
As a professional, we know there´s a concern with the environment. Is sustainability, growing in this area?
California has very strict requirements for the building envelop and energy consumption. Requirements will be getting more restrictive as of January, 2020 and soon Zero Net Energy will be the standard in California.
What distinction or award you've received during your career as architect/designer and you keep forever?
I've been very lucky to have received both local and national awards given by the American Institute of Architects (AIA) as well as having had projects in numerous publications and books.
What are the perspectives for the future?
Because the cost of construction is so expensive in the San Francisco Bay Area and the need for affordable housing so great, clients often add an additional Accessory Dwelling Unit to their property that can be rented out, offsetting costs for the Owner and helping the demand for rental units.
Another option for economic and ecological benefit is co-housing between families or friends – each with private space but shared kitchen and living space. A constant perspective for the past, present and future… I never tire of helping clients envision and build a home that will house family memories.
Any new projects on the way?
I am currently in the later design stages of two new projects, both on sites that were affected by the fires of 2017. One is modern in spirit but utilizing rustic materials and traditional forms, the other is ultra-modern with an entertainment level and grand balcony on piloti elevated 20 feet (6.5m) above its hillside site to capture views to the north and south across the Sonoma Valley.