Ceremony of the 1st Interfer Universities Prize
I Prize Interfer Universities will take place on next 7th of June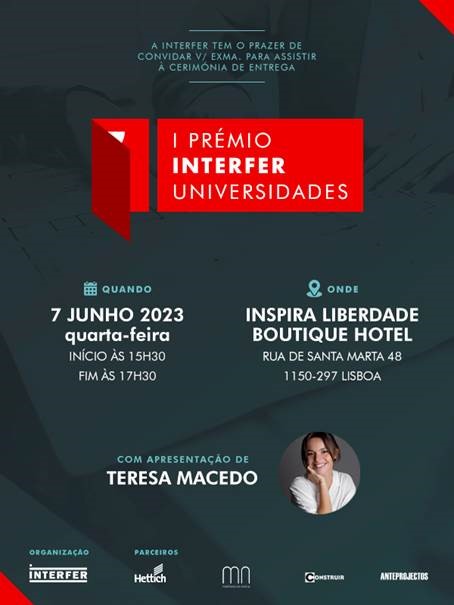 The 1st Prémio Interfer Universidades, an initiative carried out by Interfer with the Architecture and Design courses of higher education, will be awarded on next June 7th. The award ceremony will take place from 15h00 at Inspira Liberdade Boutique Hotel, in Lisbon.
The prize finalists, Ana Balbi from the Faculty of Architecture of the University of Lisbon, Ana Viana from Instituto Superior Manuel Teixeira Gomes, and Diana Gonçalves and Miguel Ginja, from the University of Évora, will present their projects for the jury's final deliberation. The jury is made up of one member from Interfer, Miguel Veríssimo, an industry member, Tiago Cristóvão, and one from the academy, Prof. Rute Gomes from the Faculty of Architecture of the University of Lisbon.
The event will be attended by representatives of Hettich, Germany's largest hardware manufacturer, Alvic, Spain's leading particleboard / MDF company, and Menage y Confort, Spain's company specialising in innovative interior design solutions for furniture.
The finalists of the competition, as well as the teacher mentoring the winning project, will receive a trip to Germany, to Hettich's factories and academy. The winner will also receive 2000 euros and will see their project built by Interfer.
The second edition of the Prémio Interfer Universidades will also be presented at the ceremony on 7 June.