Oh Precious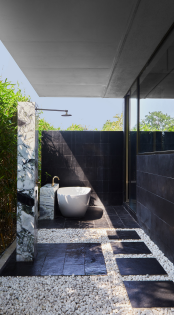 With not a hint of what lies beyond, you walk up to an image of yourself reflected in a champagne mirror standing freely in a bamboo grove. As the sleek surface swings open you step through the delicate portal frame and you are given your first view of the striking structure nestled between earth, foliage and water. The first steps you take toward the home along the black kadappa pathway are aglow with the warmth of the fire pit smoldering along your left. The linear form of the home is reflected in the quiet blue waters of the pool as it
transparently unveils itself to all that look upon it, or so it seems. The structure houses three bedrooms, a powder bath and the Living Room downstairs, and a master bedroom with an attached terrace upstairs, packed neatly into its slender form. The structural columns are all internalised within these spaces such that the exterior is an uninterrupted glass box that allows for complete transparency.
You make your way towards the living room, and as you do, to your right, what seemed like an unassuming block of concrete, reveals itself to be a cubist masterpiece created by artist Nirvair, that morphs in form with every step you take. The home is a cache of black and gray tones, ranging from the solid black of the staff quarters to the grey tones of the main linear structure itself. The rooms are finished in a reflective black kadappa and grey paint with a great degree of variation being introduced by orchestrating the laying and finishes of the kadappa stone. The greyscale palette acts as the perfect backdrop against which elements – like the jade green staircase, the red corridor and the individual bathrooms with their extravagant natural stone finishes – employ sudden bursts of color to elevate the experience of the home.