Comfort and functionality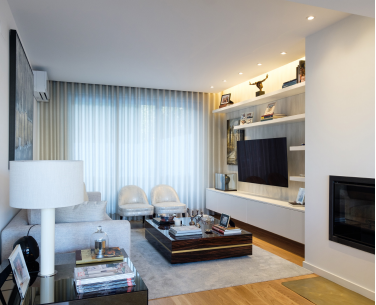 Right in the heart of the city, inserted in a predominantly residential area, and renovated in 2019, Casa Alvalade, is a T4 single-family house, with a swimming pool and outdoor social area, ideal for a traditional family that wants to live secluded yet, in the center of Lisbon.
The remodeling and alteration of the house consisted of surveying the customer's needs in order to provide maximum comfort, functionality and well-being to the owners and their family. The interior design project overseen by architect Rita Salgueiro, was initiated to obtain an architectural and photographic survey of the existing design. The space was thought out as a whole and a large part of the furniture was custom made for perfect fitting according to the needs and function of each area. Pieces from the collection of the well-known Portuguese brand Mamoa were also selected to integrate the project, with noble woods, such as ebony and walnut, being handpicked as privileged materials to contrast with the lacquered items. Fabrics and wallpapers inter communicate in a simple and discreet yet sophisticated fashion. The decor is based on neutral tones such as white, light gray and silver, which allow a good reflection of light together with the various details of metal, glass and mirror. Contrasting with the entire chromatic line of the house are two of the rooms, intended for the youngest family members, marked by strong vibrant colors. Different shades of yellow and a rainbow of colors were inserted carefully in these spaces keeping in mind their rest function. The outdoor social area, intended for everyone, includes a dining area, a sunbathing area and a lounge area, with a permanent and easy to maintain decoration in order to facilitate the daily lives of those who inhabit the space. This is the ideal house for those looking for a private lifestyle with the quality of life that a country house can provide in the midst of the hustle and bustle of the city.