A Brasileira Pestana Hotel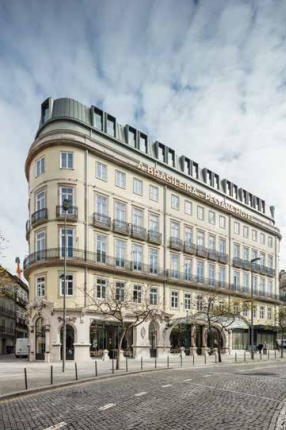 The architectural project, developed by APEL had in consideration the suitability of the original building into its final proposed program – the construction of 5-star singular building hotel.
Being the building of 'A Brasileira` – one of the most emblematic coffee shops in the city of Porto-, replete with history and unique constructive elements, it was always been the owner´s intention to maintain and restore all the artefacts having important architectural and decorative significance. Regarding the exterior finishing, both the yellow-toned bevelled tiles on the existing façade and the floral design tiles on the set-back floor will be kept. For the finishing on the top floor, attic in dormer window style, zinc was the material of choice, as it is so present on the roofs of the buildings in downtown Porto. About the interior finishing the use of noble and top range materials was sought, such as marble, wood, metal, hand-made tiles and mosaic glass tiles in order to capture the dignity that the building once possessed. The original semicircular staircase designed by the architect Januário Godinho was preserved as the highlight of the reception of the hotel. This staircase connects with the basement, where the gym and meeting rooms are located. Throughout the construction work, and with on-going demolitions, unpredictable situations arose that affected the original building plans. The building, originally thought to be solid and sound, turned out to be fragile and of poor quality structure. Exhaustive studies were necessary to reach a solution in order to safeguard the façades and guarantee, not only the sustainability of the construction work, but the future
performance of the building itself. Despite the complexity of the construction work, the coffee shop space (on the corner of two streets) stayed intact, merely requiring some meticulous restoration work.