TECHNAL presents new range of next generation windows and doors
TECHNAL extends its product range with the launch of SOLEAL Next – a new series of windows and doors that use recycled aluminium to reduce the environmental impact of products. This new SOLEAL Next range offers multiple solutions with different designs, applications, openings, accessories and handles to suit any project. Another benefit of SOLEAL Next is the good level of performance in sustainability, watertightness and acoustics, which stands out significantly in the market.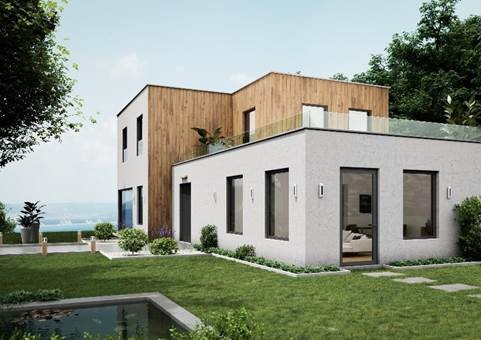 The new range of SOLEAL Next windows and doors offers endless opportunities for architects and designers thanks to their multiple designs and different applications, with profiles available for 65 and 75 mm modules.
The windows, with their elegant lines, have a multitude of shapes and colours, and multiple opening options. Hidden elements such as hinges, drains and handles contribute to a minimalist aesthetic.
The doors, available with hidden hinges, allow heights of up to 3 metres and offer the possibility of incorporating a technical pin for the perfect integration of all types of access controls, such as biometric sensors or cameras.
Other features and benefits offered by SOLEAL Next include motorised locks and electromagnetic locks for doors, while the windows include a sensor system that sends a notification via an app when the stops are blocked. The tilt and turn windows can be motorised for optimal natural ventilation in each room, as well as ensuring more sunlight enters thanks to the delicate lines. There is also the possibility of adding a 100% tested and safe glass guardrail to the bow windows, which guarantees maximum interior and exterior transparency. The range also guarantees excellent thermal performance, with a Uw of up to 0.71 W/m²K, which translates into considerable energy savings, as the need for air conditioning and heating is significantly reduced. Acoustic comfort is another benefit of SOLEAL Next, as it can reduce sound by up to 47 dB.
SOLEAL Next products also have the highest standards when it comes to burglar resistance – up to RC3 and PAS24. Doors in the range offer maximum performance, including bulletproof protection, fire and smoke control, anti-panic locks, finger protection option and the ability to add an innovative antibacterial coating to the handles.
The SOLEAL Next collection incorporates the new handles from the EXCLUSIVE HANDLES COLLECTION and the fine and refined line profiles are available in the full exclusive TECHNAL colour palette, offering the user great capacity for customisation. The collection is composed of three minimalist style lines – SELECTION, TEMPTATION and PASSION – a wide range of aesthetics that add a high level of sophistication. All versions have been reduced as much as possible to stay true to the brand's commitment to using noble materials and fine lines.
MORE RECYCLABILITY, LESS CARBON FOOTPRINT
All profiles in the SOLEAL Next range are available with Hydro CIRCAL®, an aluminium obtained by melting old end-of-life (post-consumer) windows or other objects with an equivalent alloy. This process makes it possible to reduce mineral extraction, avoid introducing waste into the natural environment, reduce energy consumption in the production process and limit CO2 emissions into the atmosphere. In short, it is a much more environmentally friendly product than primary aluminium and recycled aluminium and contributes to the development of the circular economy. The consequence of using the new SOLEAL Next range with Hydro CIRCAL®, with a low thermal transmittance, is the drastic reduction of emissions, which reach more than 70%, when compared with the average carbon footprint of aluminium consumed in Europe: 8.6 kg of CO2 per kg of aluminium.
With its 2.3 kg of CO2 per kg of material, Hydro CIRCAL® is currently the aluminium with one of the lowest emissions on the market. And the aim is to reduce it in post-consumer recycling. The use of Hydro CIRCAL® thus contributes very effectively to the construction of sustainable buildings that are eligible for the most prestigious environmental certifications such as LEED, BREAM, WELL, GREEN, or LEVEL(s).
In addition, SOLEAL Next is also made with multiple recycled components and contains no PVC. It is currently undergoing Cradle to Cradle certification and offers Environmental Product Declarations (EPD) upon request.