Portugal represented at Domotex 2023 with eleven companies of the Wood and Furniture sector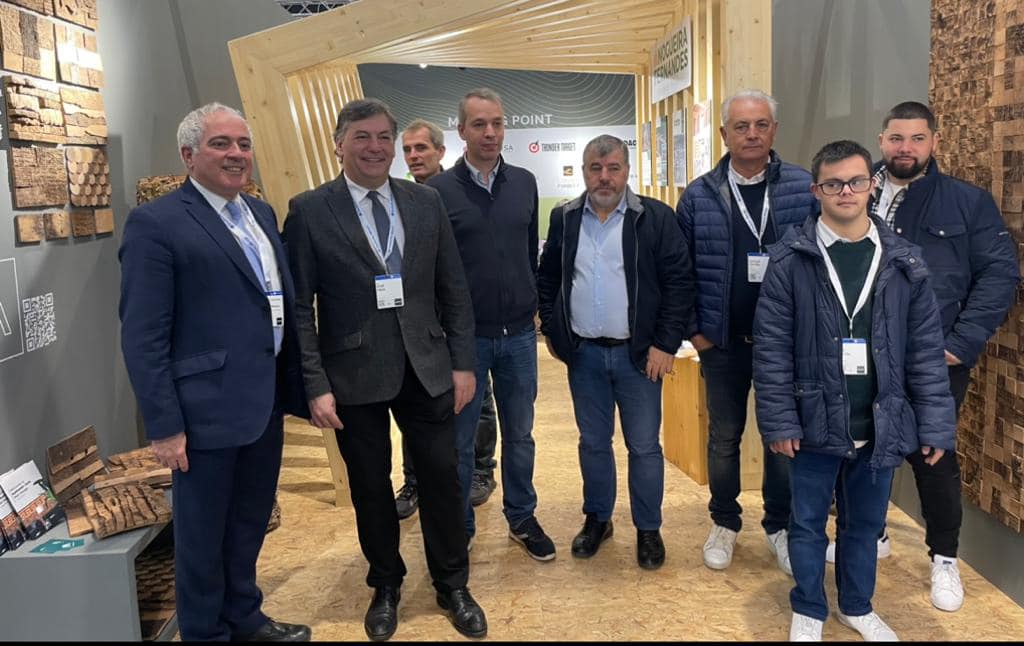 Between 12 and 15 January, eleven national reference brands were present at the most important Floorings fair in Europe
AIMMP – Association of Wood and Furniture Industries of Portugal – organized the Portuguese presence at DOMOTEX 2023, in Hannover, from 12 to 15 January. A. Barbosa; Cadeinor; Golden-Parquet®; Magna Natura; MF Timber; Revesperfil; Ribadao Wood Boutique; SPAZIOdeck®; Strong Wood Floors; Thunder Target and TradingTimber were the national reference brands that were present at the world's leading flooring fair.
For Vítor Poças, President of AIMMP, Domotex was an opportunity for the Portuguese industry to present worldwide its offer of products of proven quality, noting that "the participation in DOMOTEX 2023 of Portuguese companies exceeded their expectations, in a substantially smaller edition in size compared to previous years, but with a large number of professional visitors and business opportunities and, that happens in a year that is guessing challenging for companies in this sector."
Held in Hannover, at Deutsche Mess, the Portuguese presence demonstrated its competitive capacity and the high degree of dynamism and creativity of the national wood building materials and interior design industry. The Portuguese representation had the visit of Engr. Rui Boavista Marques, Delegate of AICEP Portugal Global in Germany.
This initiative was organized under Inter Wood & Furniture, an internationalization project managed by AIMMP for the Timber and Furniture sector, which supports Portuguese companies interested in developing internationalization strategies for new growing markets.
Over the years, this program has supported more than 400 companies, through 140 shares, in about 50 markets, with incentives of up to 50%, having contributed to the growth of exportations of the sector by about 1.000 million euros in the last 10 years.
COMPANIES PARTICIPATING IN DOMOTEX 2023:
A.Barbosa
A.Barbosa is a Portuguese company with 25 years of experience in the wood sector. As producers, the company has sawmill, drying areas, warehouse, floor production lines, among other services to supply all kinds of wood products. A.Barbosa transforms all types of wood, from all over the world and more than 50 species, into final products such as internal floors, decks, coatings, beams, frames, among others. It is a company certified with ISO 9001:2008, FSC, PEFC and CE product brand.
Cadeinor
Cadeinor is an office furniture company that has different types of products with high and strict quality standards. In this way, it invests in constant innovation to be able to follow trends in a sensible way, combining comfort with aesthetics and quality with price. All these factors have allowed the brand to gain influence not only in the national market (Portuguese), but also in the international market, namely Spain, Ireland, France, Morocco, Angola, Mozambique, Cape Verde, South Africa, and Swaziland.
Golden-Parquet®
Madeicentro is a modern company that uses carefully selected raw materials in the production of its products that are manufactured under a high quality control carried out by qualified professionals, combined with the experience of those who have been working with wood for over 40 years. Madeicentro is a company certified by quality, according to the norman NP EN ISO 9001:2000. It supports sustainable forestry and also has the FSC Chain of Responsibility Certification.
Magna Natura
Magna Natura specializes in furniture, coatings and decoration. The pieces are distinguished by the particularly elegant design and the unprecedented use of cork. The secrets in the mastery of the artisans bring to light the uniqueness and unique identity in each piece of cork, revealing its nobility, which allows to achieve timeless artifacts and full of emotion. Magna Natura is today a solid reference, supported by its highest standards of quality, affirmed knowledge and experience in the treatment of pure cork as raw material.
MF Timber
MF Timber is a Portuguese company driven by a professional and commited team with more than 20 years of experience in the production of solid wood floors. They are thus dedicated to the production and commercialization of solid wood floors and decks.  They import the raw material from South America, Africa and Europe. The company is quite strict in the control of origin and legal provenance of the wood. The cornerstones of this brand are transparency and integrity with customers, suppliers and the entire community.
Revesperfil
Founded in 2006, already with 16 years and with extensive experience in the market, Revesperfil is currently a reputable company in permanent expansion, distinguished and recognized at a national level. The main activity is the production of products under the Perclic® brand, which includes floor accessories (PVC/Pin/MDF/Kitchen tiles and profiles for aluminum and PVC floors), false ceilings and PVC floors and their accessories. In addition, Revesperfil is an importer and distributor of several brands of floating floors, namely: Kronoswiss®, AGT®, SPC composite floors, Hidroclic Floors® and Adofloor®, HKS Krugres and Mosso floors and Revdek Composite Decks.
Ribadao Wood Boutique
Family property and managed since 1976, Ribadao is dedicated to providing the most exclusive and elegant floor lines available on the market. Based in Viseu, Portugal, the company has global operations that include manufacturing, sales and distribution locations in the U.S., Europe and Africa. Dedicated exclusively to the latest market trends, the company works diligently to produce and sell ecologically sustainable products.
With a focus on art and craftsmanship, Ribadao strives to produce high quality products at affordable prices with a continuous commitment to service and professionalism.
SPAZIODECK®
SPAZIOdeck® is a registered trademark and is the result of a know-how to develop the wood composites sector. It is produced in Portugal with efficiency and respect for the environment, always seeking the continuous improvement of its products and production processes in order to provide a high quality product.
It has facilities with approximately 3500m2 of production area, modern equipment and a team with expertise and dynamism, being able to meet the expectations of each project. All SPAZIOdeck products® use raw materials of controlled origin and with the highest standards of quality and safety.
https://www.spaziodeck.com/index.php/pt/
Strong Wood Floors
Strong Wood Floors is a company whose main activity is the transformation of wood for multilayer floors, solid floors and terraces. In addition to the advantages inherent in the use of the birch naval plywood base, it also achieves the natural beauty of the top layer of noble wood.
In addition to the wide range of standard products, it is characterized by a permanent adaptation to the needs of the customer and the project. Strong Wood Floors is part of the Ferreira Martins Group.
Thundertarget
Thundertarget Unipessoal Lda. was created in 2013 with the goal of consulting European companies in the area of import and export of Brazilian timber in its various species.
The combination of the know-how acquired over several years in the prospection of the Brazilian market and the growing concern in an active participation in the sustainable development of the Amazon Forest, led Thundertarget to present the services to the most prominent companies in the sector, but also to those that show the same concerns.
After almost 7 years of joint synergies, Thundertarget Unipessoal Lda represents the company GLOBALDIS, which operates in the wood and derivatives market.
TradingTimber
TradingTimber is a company established in Portugal whose main goal is the export of wood. TradingTimber has a strong base of partners who develop the production and distribution of the product, which allows the brand to focus on the trends of the final consumer. Humanity, humility, integration and distinction are the main foundations of the company.