MR. NORTH
MR. NORTH
MR. NORTH is a furniture design brand driven by the desire to innovate. Joana Leão, Architect, tells us about the birth of this brand with a clear passion for wood.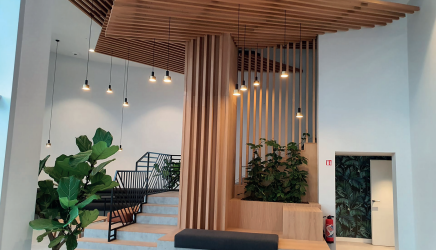 Tell us a little more about the birth of the brand.
We have been producing and designing authentic, contemporary and classic furniture for the contract market for over fifty years. Our furniture has stood out for its quality and functionality for several decades. In 2017, we established our own brand, MR. NORTH. Created in Oporto, in the industrial region of furniture, where wood is the essence.
Since the beginning, we have tried to create simple but beautiful pieces, which express our concept and appeal to people's feelings, inspiring them to create beautiful spaces. The brand was created with the purpose of meeting the needs of a demanding public seeking a noble and elegant product. All production is carried out in our own factory (with more than 50 years of experience in furniture production), located in a small village in the district of Oporto. The values are passed down from generation to generation and therefore highly qualified craftsmen combine noble materials, traditional carpentry, craftsmanship and advanced technology to produce beautiful pieces of lasting value.
You are a Portuguese brand of furniture design with a clear passion for wood. "The result is a collection distinguished by simple and attractive shapes". What more can be said regarding your concept?
Each piece from the MR. NORTH collection is made up of a solid component, thus the aim is to offer the customer an object that is not only aesthetically strong and detailed, but also offers a high degree of quality that promotes this nature.
We work in partnership with the designers in the conception of the pieces to ensure that each one has a purpose. Each piece is studied and worked through to the last element, every detail must reflect our brand values and concepts. The design of the pieces results from a partnership with the brand's designers, both national and international, while the production of the pieces is entirely national and in our own facilities.
What about your projects? What characterises them?
For the contract segment we produce unique pieces for each project for companies and design professionals around the world. Currently the markets with the largest representation are France and Germany.
We work with some leading companies who have chosen us for our manufacturing experience, space planning and for offering good solutions. We highlight the latest project for the health services company Doctolib in Paris and the remodelling of the corporate offices of the French telecommunications company Orange.
In partnership with customers, we have created over the years spaces for different business sectors – from the residential area, to hotels, corporate offices, commercial spaces, as well as health and well-being and public spaces.
In all projects, we create customised solutions to meet the specific needs of each project. We maintain absolute control over all stages of the project with 100% of our own production. We handle every detail meticulously – from the design and production of customised furniture to installation and assembly in the customer's space. Every request is different, as is our approach.
In your opinion, how are we perceived abroad? What is the weight of this sector at international level?
We believe that Portuguese furniture companies have a strong international recognition, much for the way they have recently positioned themselves, betting on quality, design, innovation and with a strong orientation to the demands of the multiple markets. Exports represent about 90% of the MR. NORTH's production
You are inspired by the beauty of wood. And you, what inspires you daily?
Our pieces originate from rational concepts, but at the same time with an emotional factor. While all pieces are functional, we also want our furniture to create emotion, through materials and design. Emotion is what inspires us on a daily basis.
MR. NORTH's furniture is…?
MR. NORTH intends to create a link between design and the art of carpentry, making wood its true essence.
Thus, the collection is characterised by simple but attractive pieces with strong and minimalist details, with an incomparable quality and that express the brand concept appealing to people's emotions, inspiring them to create elegant spaces. We believe that the competence, wisdom and passion for the art of traditional Portuguese carpentry are the most powerful asset that distinguishes the quality of our pieces.