Le Monumental Palace in the heart of the city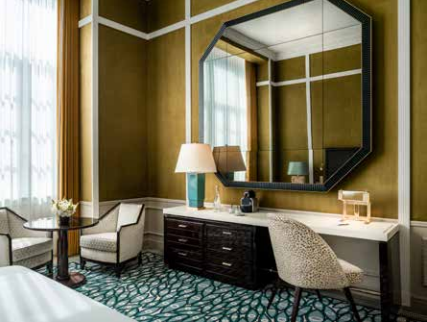 Le Monumental Palace is the new five-star hotel that at the end of 2018 opened doors to Avenida dos Aliados, known as the stage of the city of Oporto. The prestigious French chain Maison Albar Hotels marks, in this way, the entry of the franchise in Portugal.
Housed in one of the most emblematic historical buildings, the new hotel unit of the french group comes to return to the city of Oporto the Neoclassic building designed by the Italian architect Michelangelo Soá, dating from 1923. With a monumental Gothic façade, inside, it still holds some original elements and features, such as the staircase railing, that was recovered, or the grandeur of the higher ceiling which confers to it the monumentality from olden times.
The decoration overseen by the duo Artur Miranda/Jacques Bec, of Oitoemponto, recreated with elegance the Art Déco and Art Nouveau spirit and environment. Nothing here was left to chance, and example of that are the grand mirrors, the exuberant lamps, the use of imposing portuguese marbles and carpets with unique designs, but also the choice of every detail and of each object, which all together make up the glamorous atmosphere of the 30's, time where there used to be the luxurious Café Monumental, famous throughout the Iberian Peninsula. With a total of 76 rooms, the hotel has 40 superiors and 23 Deluxe, with 9 Audacieuse suites and 4 grand suites. Common to all are the noble materials used, the predominant natural light, and the elegance of the french style. To enjoy a fully "monumental" experience, there are several areas that contribute to a truly unforgettable stay, but are the well-being and gastronomy that are in great evidence, with the Le monumental Nuxe SPA and the three spaces dedicated to restaurants: the Bar Américain, the Café Monumental and the Le Monument restaurant, dedicated to the best of french cuisine, with the signature of Chef Julien Montbabut, who came from Paris – where he won a Michelin Star at Le Restaurant – to embrace this project.