In the heart of Milan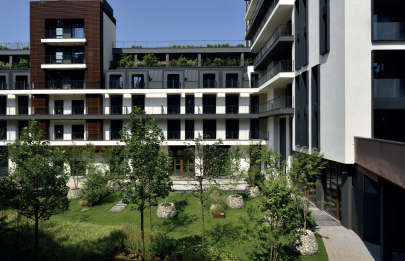 Milano Verticale | UNA Esperienze, the four-star superior hotel opens to the public as the new benchmark for hospitality in Milan. The architectural project for the interiors and outdoor areas by Vudafieri-Saverino Partners aims to overcome the traditional concept of "hotel" by creating a space open to the city. At the same time, a city hotel, a F&B destination, a location for business meetings and a hub offering innovative services. Concreta played an important role in the realization of this ambitious project. Concreta is an interior
contractor based in Postalesio in Valtellina and it is specialized in customized furniture for hotel structures. In the Milano Verticale project, Concreta expressed its great attention to detail and its global approach combined with the ability to work in full synergy and in collaboration with the VudafieriSaverino Partners studio, following each phase of realization of the project. Claudio Saverino and Tiziano Vudafieri have designed a new level of aesthetic and environmental experience to make Milano Verticale a place of uniqueness and distinction. Not just interior architecture, this is also a reflection on our new sense of time and space, our sharing of social experiences, work and play, in a setting with great visual and physical personality. The result is a hotel where visual identity, interior design, tone
of voice, reception areas and entertainment tell a single, shared, consistent story. At the core of the project is Milan. The interiors are
a contemporary reinterpretation of the tradition of Milanese design, with references to the elegant modernity of Milan's maestros from the post-war period, evident in numerous details, such as the use of multi-colour marble and Lombardy stone. In the hall, reception, lounge and lobby, the storytelling is entrusted to spectacular marble walls, ceilings covered with different colours and a large, double-height space that leads out into the internal garden. Milano Verticale | UNA Esperienze in fact also celebrates typical Milan-style understatement, with one example being the tradition of hidden courtyards that were the inspiration for the hotel's magnificent private garden. The existing building was completely renovated by Asti Architetti, responsible for the architectural project for the façades, part of a redevelopment project of enormous value for the entire block.